Our Products
Voir Nos Services
El servicio recibido por Crespo ha sido increíble. Acompañaron mi proyecto de principio a fin y el resultado ha sido genial

Antonio Luna
Cliente
Un placer como siempre trabajar con ellos. Atención inmejorable.

Carlos Alcaraz
Cliente
Fantástico el trato. Me ofrecieron varias opciones para desarrollar mi proyecto y pude elegir la que más se acercaba a mi idea.

Tim Duncan
Cliente
Descargas
Front foils and front panels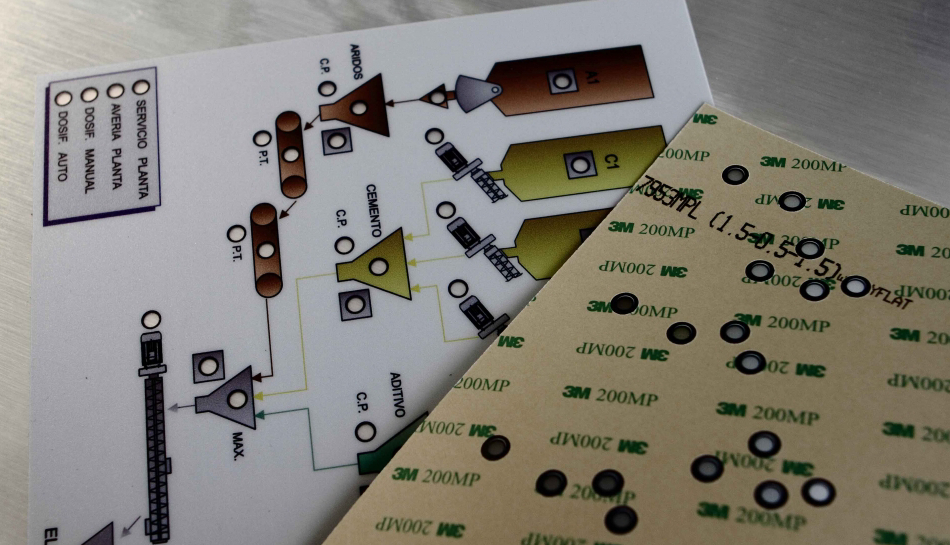 The Front foil or the Front Panels are the operating surface of the device. It includes all graphical design features to ensure a correct operation of the control device. Occasionally, Front Foils or they may be only decorative elements.
Front Foils "seal" the device in order to protect inner electronic components from external agents.
JOSÉ CRESPO BALLESTAR S.A. uses a wide range of materials with excellent performance indoors or outdoors. These high durability materials are UV, resistant and offer also excellent braking and impact resistance..
There are many different options for finishes in Front Foils and Front Panels. In CRESPO we offer the possibility to work with almost any kind of material. Our broad experience in Silk-screen Printing and Digital Printing ensures we will offer the graphic design you want.
Las carátulas o paneles frontales son elementos que tienen una importancia directa en la experiencia del usuario con el dispositivo. Por ello, en CRESPO ofrecemos un abanico muy amplio de posibilidades para realizar cualquier diseño que permita diferenciar su dispositivo..
Un producto excelente, merece una interfaz excelente.
CRESPO will assist you to find the best materials and solutions tailored to your application.
Good resistance to high temperatures, UV and scratching; excellent transparency and visibility. We have a wide range of thicknesses will fit your application.
Polyester provides high resistance to solvents, chemical products, UV; also offers excellent ink absorption. Let us assist you seeking the right thickness for your application.
It is a synthetic thermoplastic material from polyester family. It is fire resistant solvent and chemical resistant; it is almost unbreakable.
This material has high transparency and great handling. It is UV and impact resistant. Methacrylate can be used in Outdoor or indoor projects.
Surface Finish
We work with materials with high transparency.
There is no problem if your project includes transparent windows for LED illumination or displays.
Color filters are available in transparent windows.
Gloss or Matte effects are also available in Front Foils or Front panels.
Embossing is also a common feature in Front Foils / Front panels. CRESPO also offers this possibility.
We work all colors and graphic designs. This is possible due to our know-how and infrastructure in silk-screen printing and digital printing.
Engraving in the surface of the Front Foil.
Front panel is also a feature our customers commonly request in their projects.
Surface Finish
Transparent gloss
Black gloss
Gallery